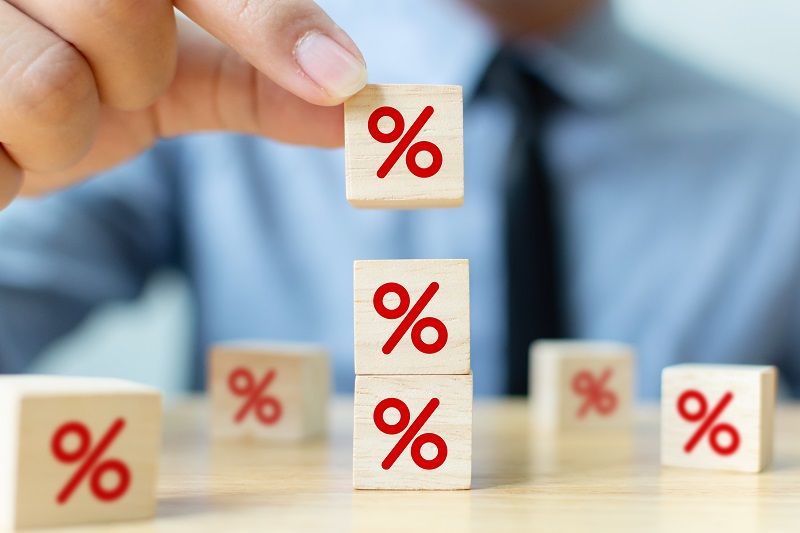 By Eric Fruits, Ph.D.
Coronavirus has hit the economy hard. Nearly all the stock market gains from the past two or three years have been wiped out. While it's painful for investors and retirees, it's likely to fuel the third major PERS crisis since the dot-com bust.
PERS, the public employee retirement system, has two major sources of funds: investment returns and employer contributions. PERS investments are managed by the state treasurer, under guidance from the Oregon Investment Council. "Employers" are state and local governments whose employees are PERS members.
PERS charges these employers a rate equal to some percent of their payroll to fund the costs of their employees' anticipated retirement benefits. Currently, the average rate is approximately 25% of payroll. For example, for a city employee with a salary of $60,000 a year, the city must pay an additional $15,000 to PERS.
One of the many factors that affect the employer rate is the unfunded actuarial liability, or UAL. The UAL is an estimate of how much money would be needed to pay off all existing beneficiaries if the system were liquidated. Think of it this way: If you sold everything you owned—house, car, checking, savings, retirement—would you have enough to pay everyone you owe? If you don't, you have unfunded liabilities.
PERS currently has a UAL of $24.5 billion. If PERS liquidated all its assets to pay its existing members, the system would be $24.5 billion short. The employer rate is set to fill that gap over a period of approximately 20 years. So, if the UAL increases, the employer rate increases. Similarly, if the UAL decreases, so does the employer rate.
Here's where investment returns come in.
Because of the way PERS benefits are calculated, the system's investments must earn an average of at least 7.2% a year to stop the UAL from getting bigger. That's a very aggressive, and optimistic, target.
In good times, when PERS investments earn above average returns, the money from the investments reduces the UAL, which in turn reduces the employer contribution rate. If, on the other hand, PERS investments tank, the UAL balloons, and state and local governments must make bigger contributions to fill the gap.
PERS investment returns are correlated with stock market returns. Generally speaking, in a bull market, PERS investments run with the bulls; when the market drops, PERS investments suffer as well.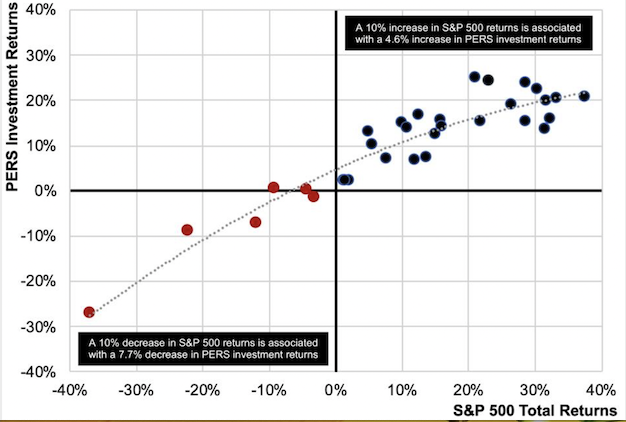 The stock market is down more than 20% from the beginning of the year. That means PERS investments would be down by about 11%. Based on past experience, such a drop would add another $6 billion to PERS' unfunded liabilities, for a total UAL of about $30 billion.
Let's say the economy improves and the stock market recovers all its losses, ending the year unchanged from the beginning of the year. PERS investments would be up by about 5%, based on past experience. Even so, PERS unfunded liabilities would increase by about $3 billion for a total UAL of about $27 billion.
Based on these observations, it's very possible that state and local governments would face an employer contribution rate for PERS of 30% or more. That $60,000 employee would now come with an $18,000 additional cost to pay for PERS.
Where will that additional money come from?
It'll come from us. Legislators and local governments will be under tremendous pressure to raise taxes to pay for skyrocketing PERS costs. Along with that will come budget cuts, with fewer teachers, state police, foster care workers resulting in bigger class sizes, reduced law enforcement, and more children stranded in the foster system. It's not just a financial crisis, it's a human crisis.
PERS has been a ticking time bomb for two decades. Attempts at meaningful reform have been put off by timid politicians and thwarted by powerful public employee unions. In the first PERS crisis of 2002, the system's unfunded liabilities were less than $4 billion. In the second crisis, beginning in 2008, the UAL ballooned to $16 billion. Today, we're looking at a third crisis with a UAL of $30 billion or more, or nearly $19,000 per household.
We are entering an era in which PERS cannot be merely tweaked or reformed. We are entering a PERS crisis that will require a radical overhaul of the entire system. It can begin with some straightforward first steps:
Move all new public employees into a 403(b) defined contribution plan. These are similar to the 401(k) plans held by many private sector employees. TriMet has already made the switch, and it saved the agency from insolvency.
The PERS Board must change its assumed rate of return on PERS investments. Because of the mismatch between assumed and actual investment returns, PERS is accruing liabilities much faster than it's growing its assets. Bad assumptions were unsustainable 20 years ago, and they're disastrous now.
These are just first steps that can be handled quickly in an emergency session of the legislature and an emergency meeting of the PERS board. There's never a good time to upset the public employee unions. Now that we're in a crisis, it's time for leadership and action to save the state from fiscal disaster.
Eric Fruits, Ph.D. is Vice President of Research at Cascade Policy Institute, Oregon's free market public policy research organization.
Click here for PDF version:
Read Blog Detail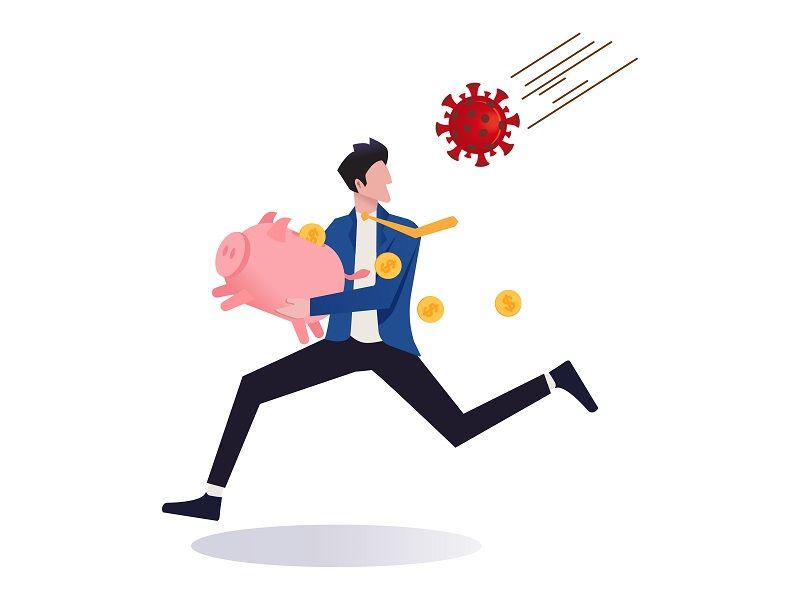 By Eric Fruits, Ph.D.
The coronavirus is already taking a toll on our pocketbooks. Families are facing layoffs. Businesses are closing—and some may never reopen. Our elected leaders are urging everyone to do their fair share. Property owners have been asked to give tenants a six-month grace period to pay their rents. They're considering forcing small businesses to provide paid sick leave to their employees. That means property owners won't have the money they need to pay their mortgages and property taxes. That means small businesses will be spending money on workers who aren't working.
Oregon politicians have been silent on how government is going to do its fair share to relieve the burden of COVID-19. They need to do more than just promise more facemasks and testing kits.
People need cash, but they don't want handouts. And that's where state and local governments can help out. Now.
For years, Oregon politicians have been loading new and higher taxes on its people and businesses. They had a permanent prosperity mindset. They believed employment would always increase, wages would always grow, and the stock market would always rise. Year after year, more and more taxes were added—just the price of a latte a week, they'd tell us. But, it all adds up. Property taxes, gas taxes, business taxes, and payroll taxes are just a few of the nibbles that over time have added up to a big bite out of our wallets. It's time to let us keep some of that money until this crisis passes.
First, the state and local governments must give everyone an automatic six-month extension to file—and pay—their income taxes. Families need that money more than the government.
Next, the Kicker. Oregonians are due for $1.5 billion in Kicker refunds this year. That's about $350 for the average taxpayer. Instead of waiting to get a credit on this year's tax return, the state should send out Kicker checks. That's what the state used to do. Plus, it's not new spending, it's money that's already owed to taxpayers.
As an emergency measure, the governor should order the Oregon Department of Revenue to delay implementation of the Corporate Activities Tax (CAT) for another year. The CAT's implementation has been chaotic, and many businesses don't know if they owe money or how much they owe. The first of the quarterly CAT payments are due April 30. Businesses struggling to survive the virus outbreak can't afford to spend the time and money it takes to figure out this complex and uncertain tax.
Portland should suspend the Clean Energy Fund's gross receipts tax on retailers. Portlanders need cash on hand now and businesses need to stay solvent. Solar panels can wait until the pandemic passes.
Now's the time for Portland to kill its Arts Tax and stop its collection efforts. In this time of worry, the city can bring a small piece of relief to the region by ending its hated Arts Tax. The first mayoral candidate who promises to get rid of the Arts Tax has a good shot at being Portland's next mayor.
Metro should pull its May 2020 ballot measure that would impose two new income taxes on families and businesses. Portland Public Schools should stop the clock on its $1.2 billion school construction bond. Multnomah County should realize the folly in raising taxes for free preschool when students across the state are on a near-permanent Spring Break.
The age of permanent prosperity has come to a quick and unexpected end. Who knows when prosperity will return? Our leaders need to adopt a crisis mentality and work hard to make sure citizens stay solvent and businesses survive. Providing tax relief isn't "austerity;" it's action. Action that informs voters that the politicians they vote for care about them when leadership is needed most.
Government is rarely the solution to a crisis, but it can take concrete steps to stop today's health care scare from turning into a financial panic.
Eric Fruits, Ph.D. is Vice President of Research at Cascade Policy Institute, Oregon's free market public policy research organization.
Click here for PDF version:
20-09-Tax_Relief_Can_Slow_the_Spread_of_COVID-19_Financial_PanicPDF
Read Blog Detail