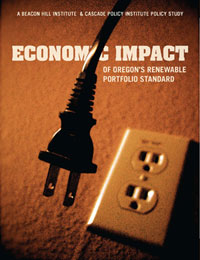 Cascade Policy Institute has released a new study showing that the Oregon legislature's renewable energy mandates passed in 2007 will be costly to citizens and will threaten standards of living and economic recovery.
The Oregon legislature has officially convened, and legislators are hard at work crafting or reforming energy policy. With an economy in recession, budget shortfalls and a recent and significant increase in electricity rates, legislators have much to address with regard to how we generate electricity in this state.
Renewable energy mandates and other restrictive energy policies are just beginning to cause financial burdens to Oregonians and, according to Cascade's report, over the next 15 years much more damage will be done.
The report, The Economic Impact of Oregon's Renewable Portfolio Standard, prepared by economists at the Beacon Hill Institute at Suffolk University in Boston, found that mandates forcing renewable energy on ratepayers will increase electricity rates significantly. Between 2015 and 2025, the average Oregon household will pay an additional $1,706 in higher electricity costs. The average commercial business will spend an extra $9,641, and the average industrial business an extra $80,115.
(more…)
Read Blog Detail