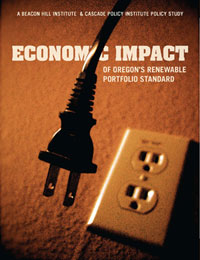 Cascade Policy Institute has released a new study showing that the Oregon legislature's renewable energy mandates passed in 2007 will be costly to citizens and will threaten standards of living and economic recovery.
The Oregon legislature has officially convened, and legislators are hard at work crafting or reforming energy policy. With an economy in recession, budget shortfalls and a recent and significant increase in electricity rates, legislators have much to address with regard to how we generate electricity in this state.
Renewable energy mandates and other restrictive energy policies are just beginning to cause financial burdens to Oregonians and, according to Cascade's report, over the next 15 years much more damage will be done.
The report, The Economic Impact of Oregon's Renewable Portfolio Standard, prepared by economists at the Beacon Hill Institute at Suffolk University in Boston, found that mandates forcing renewable energy on ratepayers will increase electricity rates significantly. Between 2015 and 2025, the average Oregon household will pay an additional $1,706 in higher electricity costs. The average commercial business will spend an extra $9,641, and the average industrial business an extra $80,115.

"As of January 1, Pacific Power rates have increased by 14.5% and PGE rates by 4.2%," said Todd Wynn, Vice President and energy policy analyst at Cascade. "Unfortunately, this is only the beginning of ever increasing rates, depressed economic activity and hardships for Oregonians in the pursuit of legislators' lust for politically preferred energy sources."
Other findings from the CPI report include:
Over the period of 2015 to 2025, the mandate will cost Oregonians an additional $6.811 billion over conventional power within a range of $4.009 billion and $9.310 billion.
Oregon's electricity prices will increase by an average of 1.73 cents per kilowatt-hour (kWh), or 23.9%, in 2025, within a range of $0.98 cents per kWh, or 13.6% and 2.46 cents per kWh, or 34%.
By 2025 the Oregon economy will lose an average of 17,530 jobs,within a range of between 10,025 jobs under the low-cost scenario and 24,630 jobs under the high-cost scenario.
In 2025, the mandates will cost families an average of $247 per year, commercial businesses an average of $1,394 per year and industrial businesses an average of $11,585 per year.
Also by 2025, annual investment will fall by $145 million, within a range of $83 million and $204 million under the low- and high-cost cases, respectively.
Due to higher home energy costs, in 2025, annual real disposable income will fall by $170 million, within a range of $101 million and $230 million.
Legislators need to rethink their push to force renewable energy on Oregonians before electricity costs spiral out of control," said Wynn. "Just a few years ago, 1 in 20 Oregonians couldn't pay their electric bills and had their electricity shut off. We will continue to see this rate increase as more renewable energy is forced onto the grid."