July 9, 2021
FOR IMMEDIATE RELEASE
Media Contact:
John A. Charles, Jr.
President & CEO
Cascade Policy Institute
(503) 242-0900
[email protected]
PORTLAND, Ore. – Temperatures throughout Oregon reached record levels last week. This posed a problem for the electrical grid, especially in the late afternoon. As commuters returned from work, residential electricity demand went up. But the wind farms that are supposed to be helping the region transition away from fossil fuels were completely unreliable.
Real-time data from the Bonneville Power Administration (below) showed that only the regional hydro system could rise and fall in tandem with demand. Nuclear and coal resources provided baseload power, but wind output went up and down randomly. During peak demand hours on both June 25 and June 26, wind dropped to near-zero.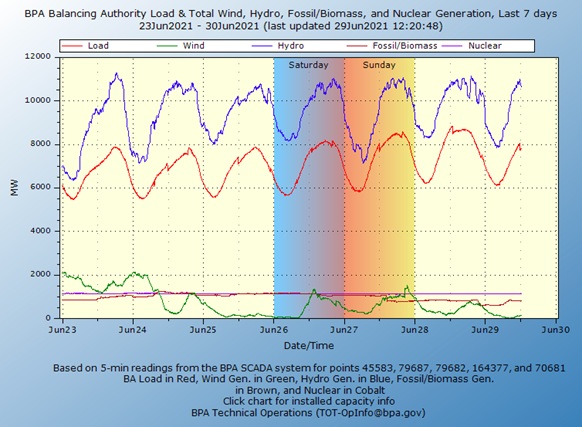 State lawmakers recently celebrated the passage of HB 2021, which mandates the elimination of fossil fuels from the power grid by 2040. However, the three main power sources preferred by legislators – wind, solar, and hydro – are all weather dependent. That makes them vulnerable to catastrophic shortages, as the region discovered 20 years ago when BPA did not have enough electricity to serve the aluminum industry. As a result, more than 5,000 jobs were permanently lost.
Cascade Policy Institute CEO John A. Charles Jr. summarized the problem: "Political meddling is steadily weakening Oregon's electrical grid, which will lead to blackouts in the coming years. The only way to describe this is Failure by Design."
About Cascade Policy Institute:
Founded in 1991, Cascade Policy Institute is Oregon's free-market public policy research center. Cascade's mission is to explore and promote public policy alternatives that foster individual liberty, personal responsibility, and economic opportunity. For more information, visit cascadepolicy.org.
###