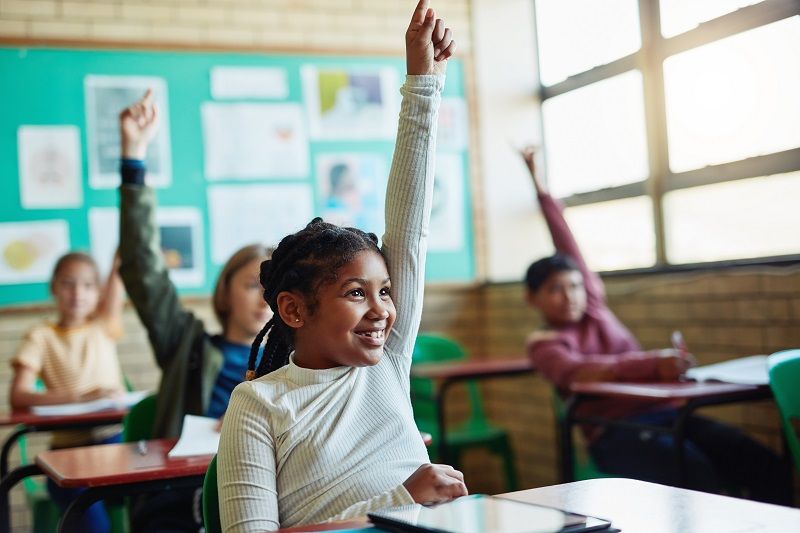 By Cooper Conway
George Floyd's tragic death has led to growing calls for changes to antiquated policing systems. The recent protests asking for police reform over these past few weeks have caused many families to question the systemic discrimination that is hardwired into the assignment of students to public schools.
Census data reports U.S. spending per student has nearly tripled since 1960—and that's after accounting for inflation. Oregon now spends almost $15,000 per student per year. In Portland Public Schools, it's $27,500 per student. Even so, Oregon ranks near the bottom of the states in graduation rates.
Despite this monumental increase in funding the government's school system with no positive results to show, most Oregon students are assigned a school based on their street address. This isn't an accident—it's written into district policies. Kids from low-income neighborhoods are placed in low-income schools, while wealthy families have the option to move to neighborhoods with better schools.
School choice is social justice. There is nothing fair or equitable about forcing low-income students into failing public schools with few options to choose the school that meets their needs. Even better, let's fund students, instead of schools. Put the funds in the student's hands and let them choose the school that fits best.
Cooper Conway is a Research Associate at Cascade Policy Institute, Oregon's free-market public policy research organization.
Click here for PDF version:
6-17-20-Supporting_Students_Not_Systems_Is_Social_JusticePDF-1
Read Blog Detail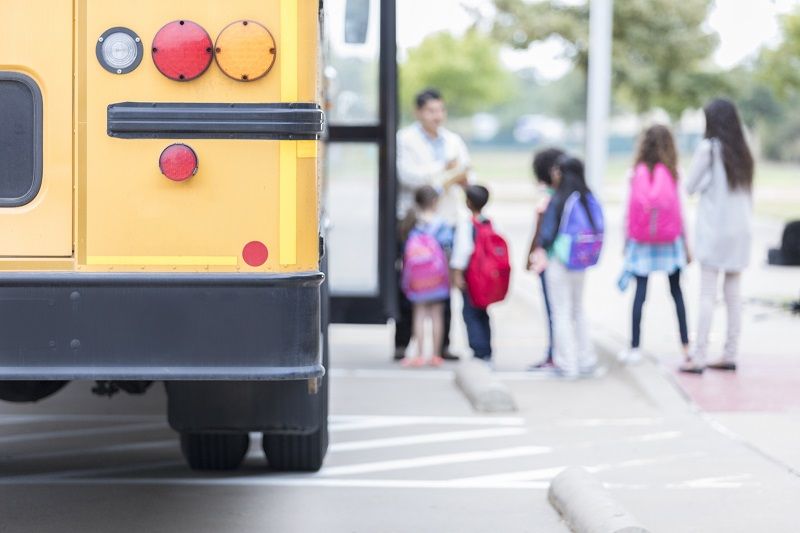 By Eric Fruits, Ph.D.
The Portland Association of Teachers declares Oregon has suffered "a 30-year disinvestment in education." That's a bold charge. Thirty years is a long time, and disinvestment is a strong word.
To disinvest literally means "to reduce or eliminate" investment. Is it true that Oregon has reduced investment in public schools over 30 years? No.
Multnomah County's Tax Supervising and Conservation Commission has been tracking school spending in the Portland area for more than 30 years. A review of Portland Public Schools spending since 1985 shows that per student spending in Oregon's largest school district has steadily increased over the past 30 years, as shown in the figure below.
Over the past three decades, both total spending and spending on instruction at PPS have grown faster than the rate of inflation. In recent years, Portland schools have spent about $30,000 per student, with almost $8,000 per student spent on instruction.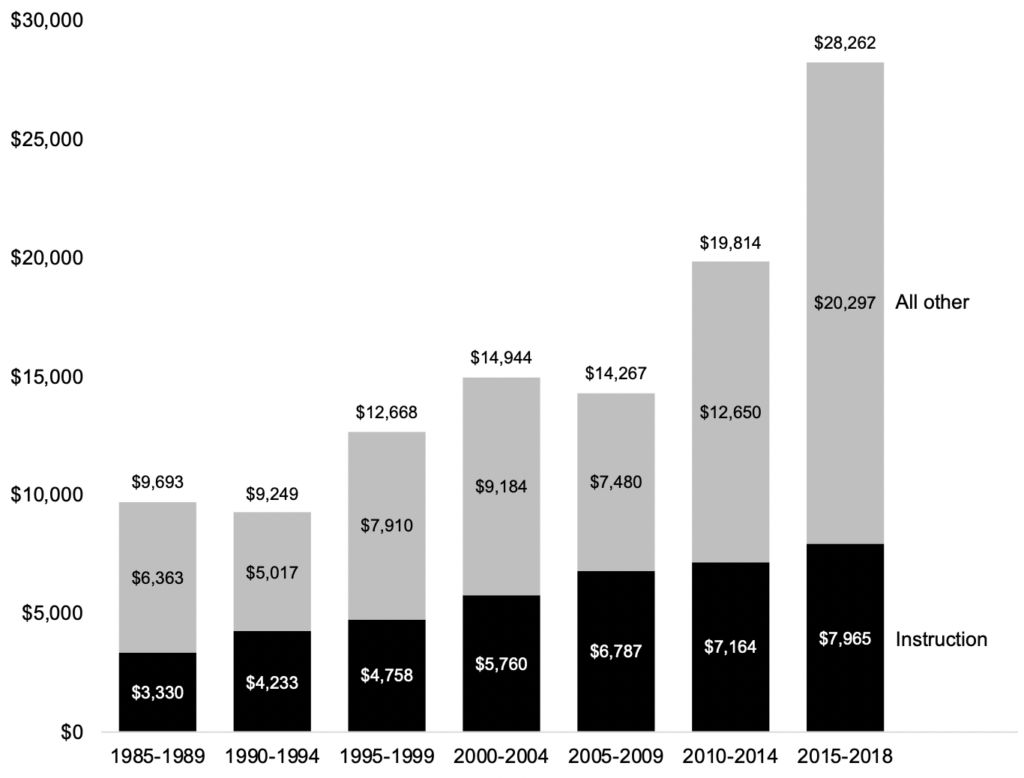 Portland Public Schools spending in dollars per student
Since the last recession, PPS total spending has accelerated. Voters in the district have approved nearly $1.3 billion in construction bonds since 2012. In 2011 and 2014, voters approved and renewed a local option property tax increase for Portland schools. Another renewal of the $95 million tax is expected to be on the ballot this year.
In Oregon, total expenditures per student were $13,037 in 2016, the most recent year for which information is available from the U.S. Census Bureau. Oregon is exactly in the middle of the state rankings of per student total expenditures. Six states, including Oregon, Washington, and California, have per student spending that is within five percent of the national average. Total expenditures include salaries, employee benefits such as health insurance and PERS, supplies, and debt service, among other things.
According to the state's Legislative Revenue Office, annual state and local education spending in Oregon has increased by about $1.7 billion over the past ten years. This amounts to $2,350 in increased spending per student and has greatly outpaced the rate of inflation.
Despite Oregon's smack-dab-in-the-middle per student spending, the state ranks near the bottom in graduation rate, produces mixed results on standardized tests, and has the sixth-highest student-teacher ratio in the U.S.
These dismal outcomes are not the result of disinvestment; they are a result of misinvestment—a diversion of education spending away from classroom teaching.
The Public Employee Retirement System and other benefits are the biggest drivers of Oregon's education finance problems. The cost of paying for public employee retirements has doubled over the past ten years. In 2009, school districts paid approximately 15% of payroll to fund PERS. The latest estimates indicate next year, districts will have to pay 30% of payroll. A big piece of current so-called "instructional" expenditures is actually spent to pay for teachers who have retired.
In general, health insurance premiums for teachers in Oregon are lower than those of teachers in California or Washington, but Oregon teachers pay a much smaller share of the premium. Research indicates Oregon teachers pay approximately 12% of the premium, while teachers in California and Washington pay 22-45%.
Many school districts have taken on additional debt to reduce their PERS obligations and fund construction. Interest payments on debt are taking money out of classrooms. Census data indicate Oregon schools pay almost $600 per student per year in interest payments alone, making it the fourth highest state in per student interest payments.
Oregon taxpayers continue to support and invest in the state's education, and any claims of disinvestment are simply wrong. Because of misplaced priorities, too many dollars earmarked for education are not used to teach students the skills they need to be productive and successful adults. PERS must be overhauled, and educational spending should be directed toward increasing high school graduation rates and making measurable improvements in academic achievement.
Eric Fruits, Ph.D. is Vice President of Research at Cascade Policy Institute, Oregon's free market public policy research organization. A version of this article appeared in The Portland Tribune on May 21, 2019.
Click here for PDF version:
Read Blog Detail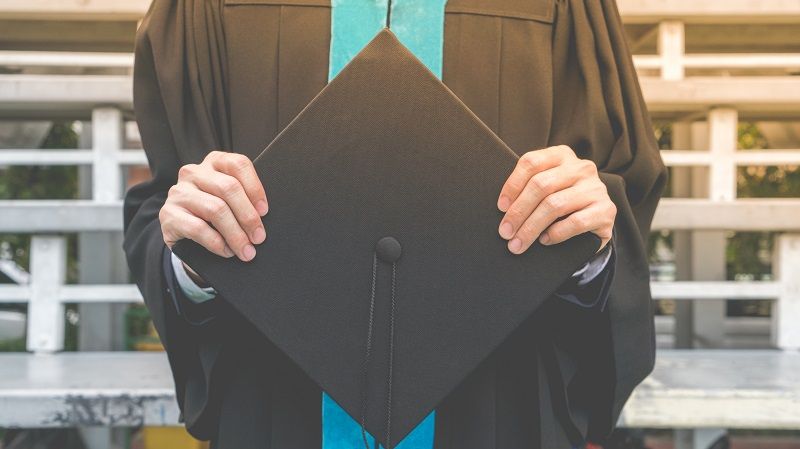 By Kathryn Hickok
Last week the National Foundation for Education Statistics released the 2017 high school graduation rates for all fifty states. Oregon ranked 49th, at 76.7%. On the same day, Oregon officials announced an 80% statewide graduation rate for 2018. Even if Oregon's graduation rate is making modest year-to-year gains, Oregon is still almost last in the nation.
During the past year, the Oregon legislature's Joint Committee on Student Success asked local communities what constitutes "success" and began to work on a plan for legislative action to improve public schools. The committee published its report this month.
The committee could have saved some trouble, though, by listening to what one former Oregon college student—Steve Jobs—said about education in 1996:
"What's wrong with education cannot be fixed with technology….It's a political problem….The problems are unions. You plot the growth of the National Education Association and the dropping of SAT scores, and they're inversely proportional. The problems are unions in the schools. The problem is bureaucracy. I'm one of these people who believes the best thing we could ever do is go to the voucher [school choice] system."
With an almost-last-in-the-nation graduation rate, it's time to free education from both union control and bureaucracy, and put the power of choice in education into the hands of parents. Oregon has tried everything else.
Kathryn Hickok is Executive Vice President at Cascade Policy Institute, Oregon's free market public policy research organization.
Click here for PDF version:
1-29-19-What's_at_the_Root_of_Oregon's_Rock-Bottom_Graduation_Rate_PDF
Read Blog Detail