Cascade Policy Institute
presents
Aging Roads? New Ideas!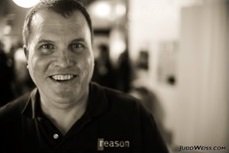 featuring
Adrian Moore, Ph.D.
Vice President of Policy at Reason Foundation
The City of Portland is grappling with ways to pay for the rising costs of maintaining and building roads. The Oregon Department of Transportation is facing a similar problem with the state highway system. Adrian Moore is Vice President of the Reason Foundation and an international expert in transportation finance policy. His presentation will feature the latest innovations in highway, tunnel, bridge and road finance from around the world, with commentary about how these ideas might be applicable to Oregon.
About Adrian Moore:
Moore has testified before Congress and regularly advises federal, state and local officials on policy initiatives.  He is a member of the Transportation Research Board, and in 2006 he was appointed by Congress to serve on the National Surface Transportation Infrastructure Finance Commission.  In 2009 he was appointed by Governor Schwarzenegger to California's Public Infrastructure Advisory Commission.
Mr. Moore is co-author of the book Curb Rights: A Foundation for Free Enterprise in Urban Transit, published in 1997 by the Brookings Institution Press, which was runner up for the Sir Antony Fisher International Memorial Award, and of Mobility First: A New Vision for Transportation in a Globally Competitive 21st Century published in November 2008.  And he is author of dozens of policy studies and articles.  
Mr. Moore earned a Ph.D. in Economics from the University of California, Irvine. He holds a Master's in Economics from the University of California, Irvine and a Master's in History from California State University, Chico.
Dessert buffet
Complimentary coffee, tea, iced tea
No-host bar (cash only) 
$15 advance payment (April 27th) — $20 after April 27th and at the door (if seating available)
***
Cascade Policy Institute is a 501(c)(3) nonprofit organization. Donations are tax deductible and accepted with gratitude.
---