In honor of Milton Friedman's 102nd birthday this July 31, below is Steve Buckstein's op-ed in Friedman's memory, which appeared in The Oregonian the day after he passed away in 2006.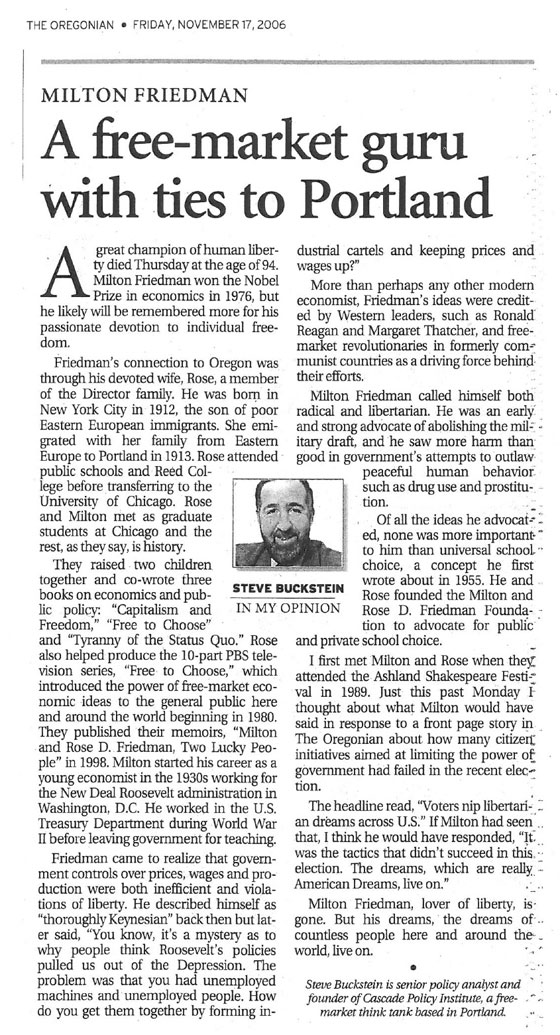 Full text
A great champion of human liberty passed away on Thursday at the age of 94. Milton Friedman won the Nobel Prize in economics in 1976, but he likely will be remembered more for his passionate devotion to individual freedom.
Friedman's connection to Oregon was through his devoted wife Rose, a member of the Director family. He was born in New York City in 1912, the son of poor Eastern European immigrants. She emigrated with her family from Eastern Europe to Portland in 1913. She attended public schools and Reed College before transferring to University of Chicago. Rose and Milton met as graduate students at Chicago and the rest, as they say, is history.
They raised two children together and co-wrote three books on economics and public policy: "Capitalism and Freedom," "Free to Choose" and "Tyranny of the Status Quo." Rose also helped produce the 10-part PBS television series, "Free to Choose," which introduced the power of free-market economic ideas to the general public here and around the world beginning in 1980. They published their memoirs, "Milton and Rose D. Friedman, Two Lucky People" in 1998.
Milton started his career as a young economist in the 1930s working for the New Deal Roosevelt administration in Washington, D.C. He worked in the U.S. Treasury Department during World War II before leaving government for teaching. He later said: "My experience in those years shaped the advice I regularly gave my graduate students in later years: by all means spend a few years in Washington — but only a few."
Friedman issued that warning because he came to realize that government controls over prices, wages and production were both inefficient and violations of liberty. He described himself as "thoroughly Keynesian" back then but later said, "You know, it's a mystery as to why people think Roosevelt's policies pulled us out of the Depression. The problem was that you had unemployed machines and unemployed people. How do you get them together by forming industrial cartels and keeping prices and wages up?
More than perhaps any other modern economist, Friedman's ideas were credited by Western leaders such Ronald Reagan and Margaret Thatcher, and free-market revolutionaries in formerly communist countries, as a driving force behind their efforts.
Milton Friedman was fond of saying that he was not a conservative. He did not want to conserve much of what our current political culture has to offer. He called himself both radical and libertarian. He was an early and strong advocate for abolishing the military draft, and he saw more harm than good in government's attempts to outlaw peaceful human behavior such as drug use and prostitution.
Of all the ideas he advocated, none was more important to him than universal school choice, a concept he first wrote about in 1955. He and Rose founded the Milton and Rose D. Friedman Foundation to advocate for both public and private school choice.
I first met Milton and Rose when they attended the Ashland Shakespeare Festival in 1989. Just this past Monday I thought about what Milton would have said in response to a front page Oregonian story about how many citizen initiatives aimed at limiting the power of government had not passed in the recent election. The headline read, "Voters nip libertarian dreams across U.S." If Milton had seen that, I think he would have responded, "It was the tactics that didn't succeed in this election. The dreams, which are really American Dreams, live on."
Milton Friedman, lover of liberty, is gone. But his dreams, the dreams of countless people here and around the world, live on.