By Christina Martin and Rebecca Steele
Executive Summary
Oregon's charter schools, which are public schools run by private non-profit organizations, are popular with parents. Over 4,700 children were on waiting lists this summer to attend one of Oregon's charter schools during the 2010-11 school year. Once school starts in the fall, waiting lists usually shrink since many parents do not want to disrupt their children's school year with a transfer. Still, in late October, more than 3,600 kids were on waiting lists.

Many districts impose enrollment caps on charter schools. Districts frequently will not allow these innovative public schools to grow beyond the cap because they fear that many students would leave their regular district schools, taking state funding with them, to attend a charter school. For this same reason, it is also very difficult to get a new charter school approved.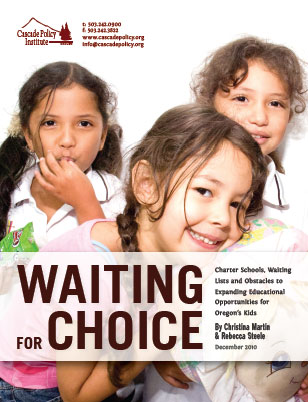 In spite of hurdles, about 10-12 new charter schools open each year. However, this has not been enough to meet the educational demands of all parents. Older charter schools are more likely to have waiting lists. One reason for this is that they have had more time to gain a strong reputation among parents. Another reason is that districts often decide to permit new charter schools to offer only a few grades, making such a school less attractive.
Many families do not know about the educational options available for their children. Yet, districts like Portland Public Schools do not allow charter schools to educate the community about their options. Frequently, those who most need educational options like charter schools will never know about their opportunities, because charter schools cannot reach out and educate the community about their existence.
Instead of barring access to educational opportunities like charter schools by imposing enrollment caps and wrongly denying strong applications to start charter schools, districts should embrace increasing options for children.