Testimony before the House Committee on Energy, Environment and Water on March 29, 2011:
Co-Chair Cannon, Co-Chair Gilliam and members of the Committee, my name is Todd Wynn. I am Vice President and energy policy analyst at Cascade Policy Institute, a non-partisan, non-profit public policy research organization based in Portland. Our mission is to promote policies that enhance individual liberty, personal responsibility and economic opportunity in Oregon.
I am here to testify today against House Bill 3538.
Background
The original purpose of House Bill 3283 is to regulate and reduce CO2 emissions from regulated facilities by implementing carbon offset projects. The Climate Trust, the only "qualified" organization that receives funds according to the bill, has proven ineffective and wasteful.
House Bill 3538 would change the original purpose of the carbon dioxide standard set forth in HB 3283 and set up the possibility for more fraud and abuse with regard to delivering real, verifiable, and additional carbon offsets.
1. The Climate Trust is not transparent
Because The Climate Trust's existence is a function of state law regulating facilities, it should be subject to the same standards as public agencies for release of public records.
The Climate Trust has refused to answer questions that could be considered "critical" of carbon offsets[1] and has refused to provide access to the recent five-year report.[2]
The Climate Trust's annual reports have not been accurate updates. They have been overly positive reports addressing self-proclaimed success and not mentioning failure or specifics of projects.
Many documents such as funding and dollar amounts spent on certain projects are unable to be retrieved or accessed.
2. The Climate Trust has failed to reduce carbon dioxide and to adhere to the monetary offset rate according to House Bill 3283
The Climate Trust has never adhered to the monetary offset rate established by the Energy Facility Siting Council (EFSC), and this has led to a major shortfall in offsets that were paid for by regulated facilities.
The Climate Trust has admitted to paying more than the established monetary offset rate in the last five-year report to the EFSC. Out of thirteen projects, the Climate Trust estimates they spend an average of $3.45 per metric ton, which is well above the current 2007 rate of $1.40 per metric ton. Since The Climate Trust pays an amount higher than the established rate, carbon dioxide is not being offset as according to HB 3283.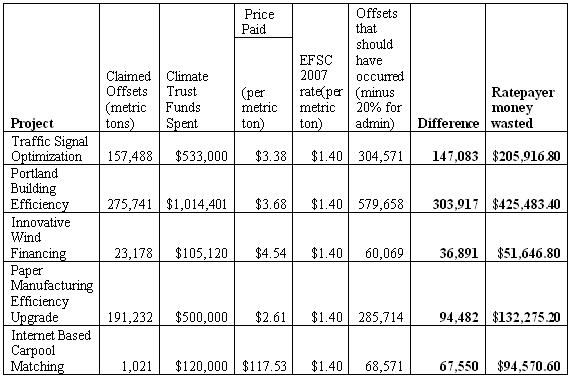 The table above shows five of The Climate Trust's projects that have data on offsets delivered and funds spent. This table describes the shortfall of offsets that should have occurred and the value of these offsets to regulated facilities.
The Climate Trust on these five projects alone has an offset shortfall of 649,923 metric tons which, at the offset rate of $1.40 per metric ton, amounts to $909,893 of regulated facility money.
3. The Climate Trust has continuously failed to produce verifiable and additional carbon offsets
Cascade Policy Institute audited 58% of the offset projects in The Climate Trust portfolio. Cascade Policy Institute audited projects that were completed or near completion in order make use of monitoring and verification reports and other data.[3]
A closer look into the portfolio showed there are numerous problems that undermine the quality and effectiveness of The Climate Trust's projects. Lack of additionality and accountability of funds, inaccurate assumptions, difficulty in verifying and monitoring results, lack of permanence and leakage issues are most of the problems that plague the analyzed offset projects.
Brief overview on failure of projects:
Deschutes Riparian Reforestation– In addition to only completing approximately 18% of its 2008 goal, The Climate Trust needlessly paid a lumber company to plant more trees on an already stocked land thus negating additionality.
Preservation of a Native Northwest Forest– Climate Trust funds that were supposed to be allocated to the Lummi Indian tribe to purchase 1,654 acres of forest were used to fund the tribe's annual canoe journey and a college scholarship program.
Blue Heron Paper Manufacturer Efficiency Upgrade– Climate Trust funds that were supposed to be the deciding factor in whether Blue Heron could finance an energy efficiency upgrade were not allocated to the company. Blue Heron's energy and environment department head stated that they would have completed the upgrades at some point in the future in order to stay competitive thus negating additionality.
Portland Building Efficiency Program– Monitoring and verification reports used two different estimates to calculate the offsets that were not additional. These figures were highly significant in determining the actual amount of offsets paid for and claimed by The Climate Trust. This leads to serious questions on the additionality of these offsets.
Traffic Signal Optimization– The City of Portland already committed to optimizing traffic signals over two years before The Climate Trust's involvement which negates additionality. In addition, the third party that performed the calculations on fuel savings admitted the estimates were inaccurately calculated.
Internet Based Carpool Matching– The Climate Trust only achieved 1.4% of the ten-year goal and allowed the City of Portland to "make up" the offsets through two projects that were neither monitored nor verified.
Innovative Wind Financing– The Climate Trust paid for renewable energy certificates (RECs) which do not represent actual reductions in carbon dioxide. Subsequently, The Climate Trust has written a policy paper proving why RECs are not offsets.
4. Allowing the Climate Trust to offset more than carbon dioxide goes against the original purpose of House Bill 3283 and opens up the opportunity for more waste and abuse.
The original intent of House Bill 3283 was to reduce and offset carbon dioxide emissions from regulated facilities. This did not include all greenhouse gases.
The majority of fraudulent carbon offset projects have stemmed from greenhouse gases other than carbon dioxide. Massive fraud on the international scale has been attributed to the destruction of trifluoromethane (HFC-23) a greenhouse gas byproduct of manufacturing refrigerant gases. The carbon offset credits that sold to reduce HFC-23 are twice as valuable as the refrigerant itself.
 
A study found that almost three-quarters of Clean Development Mechanism (CDM) registered offset projects were already complete at the time of approval, and thus, didn't need carbon credits to be built. An estimated 40 percent of CDM projects registered by 2007 represented "unlikely or at least questionable" emission cuts. Between a third and two-thirds of CDM offsets don't represent actual emission cuts.[4]
Conclusion
HB 3283 was originally passed with the intention of reducing manmade carbon dioxide, not other greenhouse gases.
The Climate Trust has proven itself to be wasteful and non-transparent in its operations.
Allowing The Climate Trust to offset more than carbon dioxide violates the original intent of the law and opens the door for more fraudulent non-additional offsets at the Oregon ratepayer expense.
I urge the members of this committee to vote no on HB 3538.
---
[1] Email from Mike Burnett, Executive Director of The Climate Trust. November 28, 2008.
[2] Phone call from Amy Phillips, Marketing and Communications Director of The Climate Trust. September 9, 2009.
[3] Money for Nothing: The Illusion of Carbon Offsets. February 2009. Available at https://cascadepolicy.org/pdf/env/Climate_Trust_Audit_021009.pdf
[4] http://www.washingtontimes.com/news/2009/mar/08/carbon-offsets-scam/