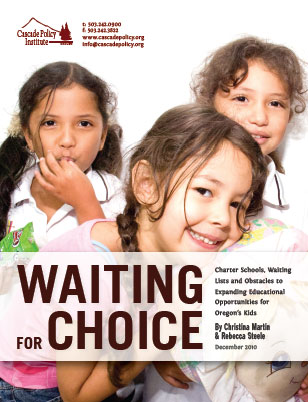 School choice is widespread in America—unless you are poor. Affluent families have choice because they can move to different neighborhoods or communities, send their children to private schools, or supplement schooling with tutors and enrichment programs. Lower-income and working-class families, meanwhile, too often are trapped with one option: a school in need of improvement.
Cascade's School Choice Project works to increase educational options for all kids. Public charter schools (including online charter schools), private schools, and home schools are options that increase families' opportunities to find the right fit for their children. These options are frequently under attack by those who represent the status quo, including teachers unions and school district boards and administrators.
Cascade offers original research and practical arguments to legislators, citizens, and the media to promote policies that enhance quality, freedom, and innovation in Oregon's education system.
Beyond school vouchers and tax credits—which could be described analogously as the "rotary phones" of school choice—Education Savings Accounts (ESAs) are now the "smartphones," incorporating market forces to both restrain costs and improve outcomes for families and taxpayers. Several states already have adopted ESA programs, and Cascade is working to introduce the concept in Oregon.
Cascade Policy Institute was formed out of our founder's school choice ballot imitative campaign in 1990. We continue to believe that real education reform will not come from the establishment, but only from families gaining more freedom and choice over their children's educational opportunities. We encourage you to join us in this effort.